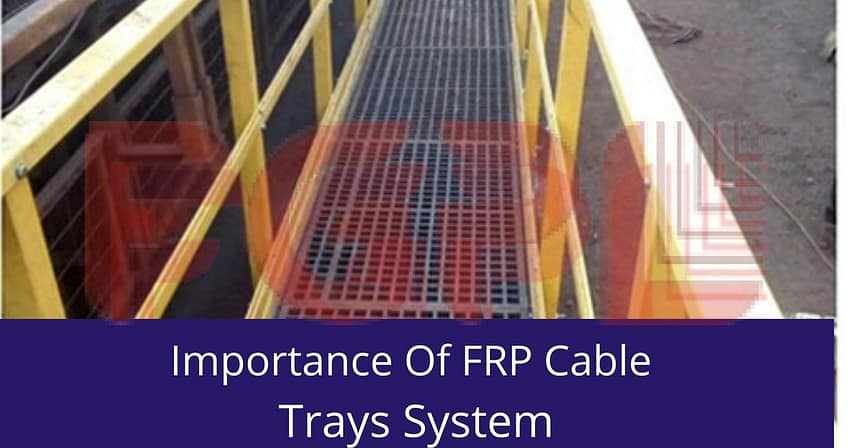 It's Common to see the use of the cables dealing with data and communication cabling packed into a tiny space to fix with the bandwidth and out turn the demands. To control the resistance flow of the rising temperature, For the clean and ventilated, it's essential to provide a dynamic air conditioning and if it is not clean and ventilated then that might be a critical situation due to rise in temperature. Under the government criterion it is the main element for the industrial areas, thus this criterion generated the demand of the FRP Cable Trays in industries.
Cable tray is a great tool for the arrangement of the cables. For the installation of these cables trays in a immense amount of wiring, it require a ground metal barriers for the midline, different wiring one for the power and other for the communication/data cabling.The ground metal barriers stop the disarrangement of the host of the conductors which is too difficult to track and can be change easily when the changes is needed or the fault arises.
There are lots of differences between raceways and cable trays and it's very important to understand the differences.
According to National Electrical code, a cable trays is a component or fixing of components, and a linked fitting, which forms a constructional system for a safe and secure speeding for supporting cables. Where on other hand Raceways, are commonly placed on the walls of the room where the communication and power cables are discontinued. Cable trays are most commonly used over or below the elevated floors, which are carrying the wide open cables wiring. These cable trays are used to connect the cables from the origin to the place where it is handed down.
Cable Trays are used in industries for maintaining the ventilations of the data and power conductors which are plunged into and have exit points, where they are transferred to the end through raceways.
There are many FRP cable tray suppliers in India and Fibrogats is one of them which is known for the best manufacturing of FRP (Fiber Reinforced Plastic) products in India on high demand. The fibrograts production is mostly focused on the manufacturing of fiberglass, FRP cable trays and other fIber reinforced plastic products.
Cable trays are effective and efficient for different types of wirings like:
High Volt Power Cables
Sensitive Control Wiring
Tele-Communication Wiring Cables
Power Distribution Cables
Fiber Optic Cables
Cable trays are used for supporting, expanding, relocating networks, and configuring the both  signal and high volt power cables.
There are different types of cable trays system available such as :-
Ladder: 
Ladder is a cable tray which have rails on both sides connected with the rundles. Ladder is the easiest way to get access of head and bottom cables.
Perforated Cable Tray: 
Perforated cable trays are more efficient than ladders because the perforated cable trays provide more support to the cables.
Solid Bottom Trays: 
These solid bottom cable trays are no-ventilated trays that are used for supporting the fiber optic cables so that the network shouldn't get interrupted due to any radio electro-magnetic wave.
Channel Trays: 
Channel Trays are the small rails channel trays which are used for the fixing the communication wiring within a small portion.
Cable trays are also available in different materials (both metallic & non-metallic) such as aluminum, steel, fiberglass, etc which are coated with galvanized coating.  These cables trays of different materials coated with galvanized are used because these coated trays are corrosion free, light-weighted, and damage free from environment harshness.
Cable tray system is more likely to be used because it the most efficient way to support and fix the wiring in a large area. These tray system are cost effective because it cost less than other methods and also its easier to change the wiring from the cable tray at anytime and from any point of the cable tray.
As you know there is day to day development in industrial and corporate fields and the use of power and data communication cables also increased rapidly, to support these power and data communication cables the demand of cable trays system also increased. If you are also using the data power cables for communications and want to get rid of wiring changing problems then use cable tray system like ladder, perforated cable tray or solid bottom cable tray. Fibrogats are manufacturing all different types of cable trays and other FRP Products. Fibrogat is one of the best FRP cable tray manufacturer in india, they are also involved in production of a wide range of FRP products for various sectors in industry.